This 51 year old mother has been on the death row since 2009. She was convicted over trumped up blasphemy charges.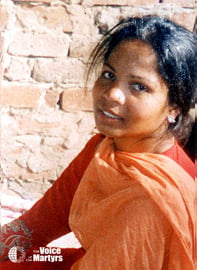 As reported by
Release International
and the
Voice of Martyrs
, her final appeal will come up this October.
We are calling on Christians everywhere to pray for her. There are protests by Islamic Fundamentalists to put pressure on the government not to acquit her. Also the prosecutors, defense team and the judges are threatened with death if they end up releasing this woman.
Pray that her courage will not fail. May her faith continue to be strong no matter what happens.
From VOM: Ask that the Lord will grant favour to Asia and her legal representatives as they mediate for justice and mercy on her behalf. May the court be impartial and not be swayed by prejudicial arguments or protests, nor respond in fear to opposing militants. Continue to pray for Asia's health and protection, as well as the safety of her family and all who are trying to assist her. Intercede for the Pakistanis who are wishing her harm by wrongfully taking "justice" into their own hands. Pray that they would be under the conviction of the one true God who longs for His love and salvation to be experienced by all of humanity (John 3:16).
Sign the Petition
for the repeal of this devilish Blasphemy Law
here
.